Coaching potential Tykes of the future
Leeds Tykes squad members spent Wednesday evening coaching the West Park Leeds age-group teams. Club captain, Tom Collins, Pete Lucock, Jack Gilmartin and Junior Nu'u supported West Park Leeds' coaching team. They then ran a masterclass for the fifteen and sixteen-year-olds focusing on rucks, lineouts and, for the backs, attack play and defence drills.
After the sessions, Tom said: "It was great to get down and give a hand. You can see first-hand how much goes into keeping grassroots rugby going and the time and energy volunteers give to run each team.
"We hope to be able to get down to more coaching throughout the season to run some drills and help out where we can. The kids were a talented bunch. You never know there might be some future Tykes amongst them."
Marching on together
Some Aireborough RUFC juniors walked out with the Leeds Tykes and Wharfedale teams at Friday night's fixture. The youngsters then lined up with the teams facing West Park Leeds' clubhouse before a poppy wreath was laid on the field ahead of a perfectly observed minute's silence to commemorate Armistice Day. After the match, they met the Leeds Tykes players.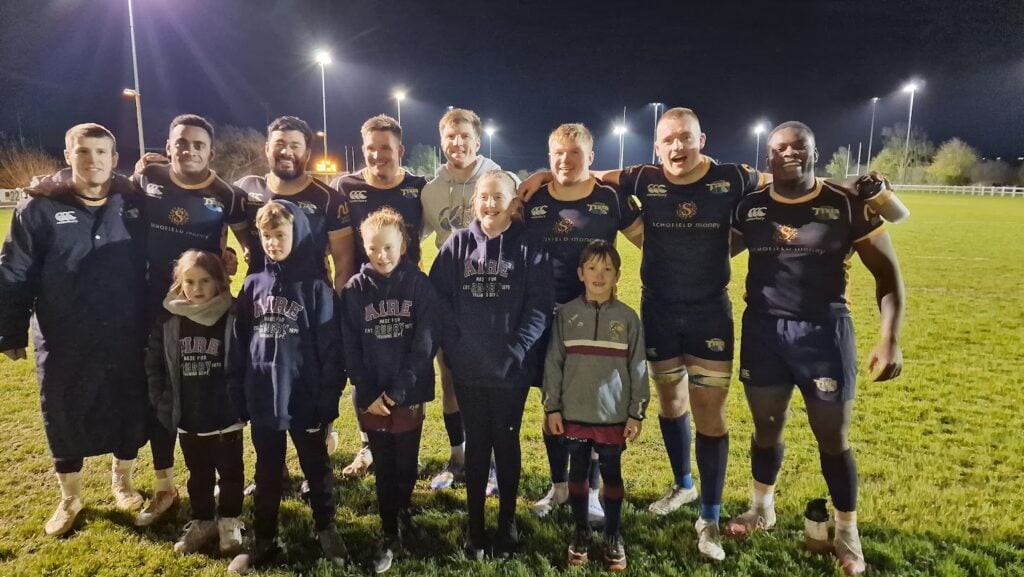 Paul Beevers, Aireborough Junior Fixtures Secretary said: "It's been a good evening out. The kids really enjoyed running out with the team, observing the minute's silence and meeting the Tykes boys after the match.
"Many of them don't get to see rugby at a level of this evening's match and they loved it."
As you've read this far, can you support the lads?
Movember is when men around the world grow a moustache to raise awareness and funds for men's health. This November, Leeds Tykes players are growing mos and would love it if you could support their fundraising, any donations are much appreciated. Thank you.